リアルエステートテック領域における事業拡大に向けて 持株会社制への移行準備を開始 2019年4月1日に移行予定
2018.08.03
株式会社TATERU(本社:東京都渋谷区/代表取締役CEO:古木大咲/証券コード:1435、以下当社)は、本日開催の取締役会において、第13期定時株主総会決議による承認および関係官公庁の許認可等が得られることを条件に、2019年4月1日に持株会社制に移行することを決議しましたので、お知らせいたします。
持株会社制への移行の背景および目的
当社は、リアルエステートテックを推進し、「ネット×リアルで新しいサービスを」という経営理念のもと、アパートプラットフォーム事業をはじめとして、IoT事業、クラウドファンディング事業、民泊事業など、多角的な事業展開を行なっております。
当社グループのリアルエステートテック領域における事業拡大や企業価値向上を目指し、日々変化するマーケットに機動的に対応するため、持株会社制への移行準備を開始します。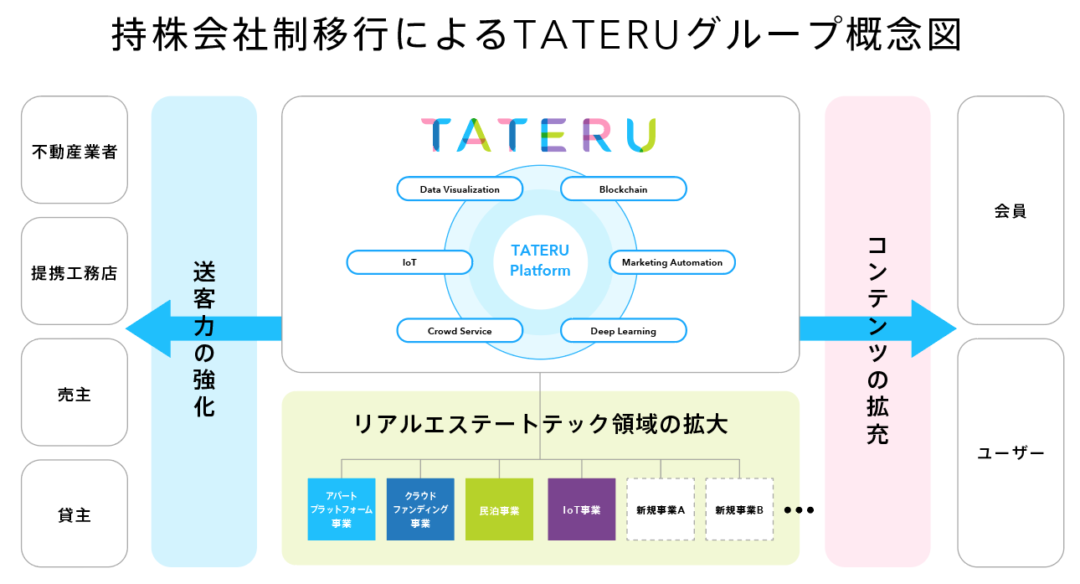 <持株会社制移行の目的>
(1)グループ経営の強化
(2)各事業会社の自律的経営による効率経営の実現
上記にあたり、「経営方針決定・監督機能」と「業務執行機能」の分離を実現するとともに、グループ各社に権限と責任を委譲することにより、マーケットニーズを的確に把握し、スピーディーに最適な業務の執行を目指します。これにより、グループ収益の最大化、事業の拡大と企業価値向上に努めてまいります。
持株会社制への移行方法および今後の予定
持株会社制移行の具体的な方法および持株会社制移行後の体制等については今後検討の上決定いたしますが、いずれの方法であっても、現在当社の株主である皆様が引き続き持株会社の株式を保有することとなる方法で実施します。
<持株会社制への移行スケジュール>
2019年3月下旬(予定) 持株会社体制移行に関する株主総会承認(第13期定時株主総会)
2019年4月1日(予定) 持株会社体制へ移行
TATERU starts preparing for transition into holding company to expand business in real estate tech field Transition scheduled on April 1, 2019
2018.08.03
TATERU, Inc. (head office: Shibuya-ku, Tokyo; representative director/CEO: Daisaku Furuki; securities identification code: 1435; "the company") announces a resolution made by the board of directors today that it will transition into a holding company effective April 1, 2019, subject to the approvals of the 13th general meeting of shareholders as well as regulatory authorities.
Background and purpose of transition into holding company
The company promotes real estate tech under the corporate philosophy "Providing new services with Internet x Real," deploying multi-faceted businesses including apartment platform business, IoT business, crowdfunding business, and Minpaku home sharing business.
To expand business and increase corporate value in the real estate tech field, and to respond to the changing market with agility, the company starts preparing for transition into a holding company.
<Purpose of transition into holding company>
(1) Strengthen group management
(2) Enable efficient management through autonomous conduct of business of each operating company
To attain these goals, the company will separate the function to make business decisions and oversee organizations and the function to operate business. Also giving authority and responsibility to group companies will help these companies appropriately understand the market needs and operate business in a speedy, optimal manner. Through this, the company will maximize group revenue, expand business, and improve its corporate value.
Method and timeline of transition into holding company
pecific methods of transitioning into a holding company and the structure of the holding company is yet to be determined. No matter what method is chosen, current shareholders of the company will continue to own the shares of the holding company.
<Timeline of transition into holding company>
End of March 2019 (schedule): Approval of transition into a holding company at a meeting of shareholders (13th general meeting of shareholders)
April 1, 2019 (schedule): Transition into a holding company